Happy Thanksgiving Week, but maybe more importantly, happy Iron BowlWeek. It's the most anticipated week of the year for Auburn fans and the most legendary game played in college football. Despite a recent losing streak, Auburn has a chance at upsetting #3 in college football. We know all too well that anything is possible in this game!
We are so grateful for our Nor Cal Auburn Family. Thank you all for making this season a great time…win or lose. We can't wait to grow our club in 2022 and get to know everyone at events outside of football season! May you all have a wonderful Thanksgiving. If you're not traveling, please join us at our watch parties in SF, Sacramento, East Bay or our pop-up watch party at Moe's in Tahoe. 
Raffle Details
We are hosting our biggest raffle of the season so get excited to win some Auburn memorabilia, including a Bruce Pearl signed basketball generously donated by one of our valued East Bay Auburn families (see below!). Bring your cash to Nick's Saturday, Venmo the Club's Finance Manager, Arthur Mendes at @arthurmendes or pay directly to the Club's own Paypal account in order to participate. Raffle tickets for the Bruce Pearl signed basketball are $20 per entry. All proceeds will go to our Scholarship Fund and are tax deductible.
The winner of the basketball raffle will be announced in person at halftime of the Iron Bowl as well as via Facebook and Instagram. Raffle winner does not need to be present to win. We will coordinate delivery with the winner to their preferred shipping address. All are eligible to participate!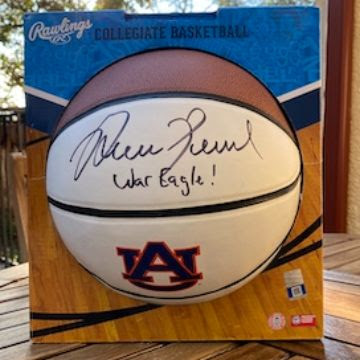 Week Twelve Takeaways and Week Thirteen Outlooks
As a reminder, please bring your vaccine card to watch parties and if you are traveling to the city for the game, be sure to check ferry schedules here. War Eagle!